Pokemon Emerald
Guides
Battle Frontier
Cloning Pokemon
Emerald Gym Guide
Emerald Elite Four Guide
Missing Hoenn Pokemon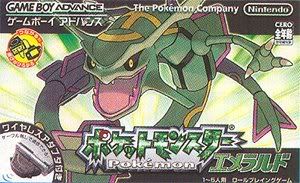 Console: Gameboy Advance
Features:
May and Brendan will appear in the game as the heroes, once again. This time they will have different outfits. Team Magma and Team Aqua will star in the game, along with Kyogre and Groudon as well.
The game is once again set in Hoenn but there will be some new destinations to explore such as the Battle Tube, Battle Dome and Batte Frontier. Not much is known about these yet but they are thought to be like the Battle Tower in R/S.
Another new feature is that the Pokemon will be animated, much like in Pokemon Crystal. There will also be certain scenarios when a random trainer decides to join in your battle and help you out. You will provide one Pokemon and the other trainer will send out the other.