Character Bios
Ash Ketchum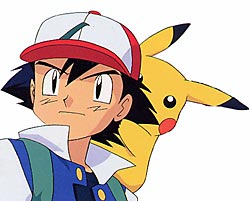 Japanese name: Satoshi
First Appeared: Episode 1: Pokemon! I Choose You!
Hometown: Pallet Town
Description: Dark brown, spiky hair, brown eyes
Age: 10 at the beginning of his journey
Clothes:
Kanto/Johto: Blue tracksuit top, dark t-shirt, light blue jeans, sneakers, red and white baseball cap
Hoenn: Blue tracksuit top, red and dark green baseball cap, blue jeans, sneakers, dark green/gray t-shirt
Information: Ash left his home in Pallet Town when he was 10 years old to begin his Pokémon Journey. After waking up late on his first day of Pokémon Training he missed out on the starter Pokémon and was forced to take on Pikachu, a small electric mouse Pokemon. After a rought start Ash and Pikachu soon became inseparable and are now the best of friends. Ash has a deep respect and love for his Pokémon and one day he hopes to realise his dream of becoming a Pokémon Master, a title that only a few of the best trainers ever hold.